Thursday, October 14, 2004
Cameron Time
I so rarely mention
Cameron Adams
these days, that you could be forgiven for thinking I'd become some sort of atheist. I still read the Bible though, and I still believe in Cameron. Of course, though, in my religion there are many Gods...but still, Cameron is the one supreme God.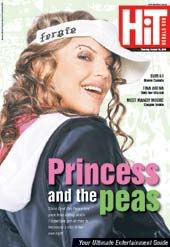 I guess it's time to show a little more devotion though, with an old fashioned HiT Review.
Fergie
on the cover?? I so do not approve. I'm also not approving of:
Lindsay Lohan in the 'Hot' section (I know I used to love her forever, but I hate her now)

Ricki-Lee's departure in the 'Not Hot' section. That is the Hottest news that has ever been.

There's a great Delta review though:

Delta Goodrem 'Out Of The Blue'
This pocket-sized epic is positively bursting with emotion and clearly high on love. The kitchen-sink production and layer upon layer of melody leave you almost breathless at the end. Welcome back: to No.1.
4 Stars

Our old mate Pete Murray got 3 stars as well. I've seen the single in stores, and it is all fancy and 'special edition'. It sort of makes me want to buy it.