Wednesday, October 13, 2004
THE HALL OF FAME
Well, we really want to do our own
Hall Of Fame
honouring all the most important people and things in the world. Except, at the risk of
infringing copyright
we can't CALL it the 'Hall Of Fame'. I don't know exactly
what
to call it yet, but temporarily, it is TOTALLY NOT The Hall Of Fame, ok?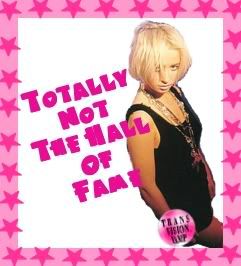 Maybe it can be the Wall Of Fame (as in Wonder). I don't know. Anyway, one thing is for sure, it's NOT The Hall Of Fame. Wendy James will attest to this if she has too. It's an original idea that is not ripping off anyone else. At all.
So...who (or what?) is the first "inductee"?
It's actually a thing, to start off with. I will give you some clues as to what it is:
1. It's one of the most influential albums of the past 10 years
2. It's by a little band known as Oasis
Yes, you've guessed right!
It's
Standing On The Shoulders Of Giants!
Before you think I'm doing one of my sarcastic 'Mel-C-is-better-than-the-Beatles' routines, I am being serious. I love
SOTSOG
.
The following songs are all as good as anything of Definitely Maybe (if NOT better):
Gas Panic!

Where Did It All Go Wrong?

Sunday Morning Call

Roll It Over

I also like Little James. I mean, it's no Hey Jude, but...oh, actually, it is. Hey Jude is kind of crap. In that case, it IS a Hey Jude.

Anyway, Standing On The Shoulders is a top album, and a worthy first inductee to our thing that is totally not a Hall Of Fame. Will it be the only Oasis album to make it? (The answer is most certainly NO). And what will be next? (If might be a safe bet to go with David Brent, Cameron Adams or Stuart Parker).