Friday, October 29, 2004
"I've Gotta Go Save Some Africans'! Part 2
Seems we are having
cross Liz/blog
wars about the value of saving starving people in Africa though the aid of a good song.
Well, seeing as this is the
Magical Mystery Tour of Celebrity Peace & Politics
there's really only one place for us to visit next...yes, WE ARE GOING TO AFRICA!
Stu
get the bus! It's time to get back on the road!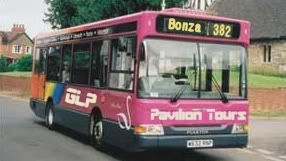 SKY'S MAGICAL MYSTERY TOUR - AFRICAN LEG
Tour Guides:
Damon 'I *heart* Africa' Albarn

Bob 'no snow in Africa' Geldof

Bono 'feed Africa' 'Paul' Hewson

On The Stereo:


Afrika Bambaattaa - "Peace, Unity, Love and Having Fun"

Toto - "Africa"

'I bless the rains down in Africa...
Gonna take some time to do the things we never had...'

Crystal: Ah, here we are in Africa...
Stu: You know...where specifically am I driving to...?
Crystal: Just somewhere where there are people in need, Stu
Stu: You know 'Africa' is a pretty big place right?
Crystal: It's alright...you know what road to take
Stu: Yeah yeah...the road to success.

Bono: Alright you two, listen up. It's time to feed some starving people!
Crystal: Hey Bono...I know of course, that we are IN Africa...but if we WEREN'T...how could I help you to feed starving Africans?
Bono: You could go here
Crystal: But why Africa? and why Me?
Bono: The answers are all there in the links

Stu: What the hell IS this? It's like a public bloody service announcement
Crystal: I think I've started to actually care
Stu: I think we better get back to Australia...there won't be snow in Ramsay St this christmas time either you know
Crystal: STU! Fair dinkum that was uncalled for. Anyway...I KNOW you're a bit of an Australian Bono yourself lately...shall we talk about that?
Stu: Better save it for another post

Crystal: Yeah alright. See ya Africa! It's been fun!
Damon: I'm going to stay behind I think
Stu: Good riddance then! Good bye!