Wednesday, October 13, 2004
Ricki-Lee Against The Beatles
Up against the speaker, tryin' take on the music...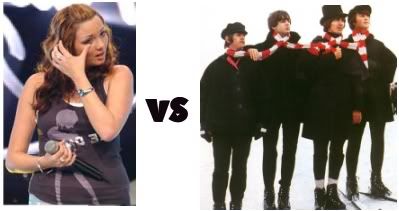 So
Ricki-Lee
blames 'The Beatles' for her getting kicked out of Idol does she? I tell you what, I am getting tired of her damn attitude. She actually thinks she's
better
than them. In her own
head
, that is what she
thinks
.
But, you know, we'll give her the fair comparison. So I guess it's time for another one of our-tried-and-true 'Against The Beatles' match-ups:
The Fab Four Vs A Complete Spak Head
- Who most rules the world of music?
HIT SONGS:
The Beatles:
Hundreds
Ricki-Lee:
None
CAREER IMPACT:
The Beatles:
40 years of immeasurable influence upon music and pop culture
Ricki-Lee:
Was on Australian Idol for 6 weeks
I think we'll just stop this farce right now. It's obvious why God (aka Noel) ejected her from Idol this week. He doesn't take this shit, and neither should anyone else.
*********
Next Up:
A much more fair comparison...Ricki-Lee against Mel C. Oh damn...I think Mel C might genuinely win...