Thursday, November 11, 2004
HiT and Chik reviews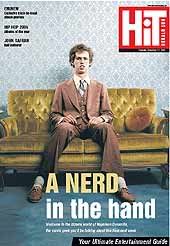 Cameron
called Pete Murray
Peter
! And he put
Band Aid III
in the 'Hot' column! Cameron has been working very hard the past couple of weeks to claim back his position as my personal Jesus, and he's finally succeeded.
ALSO - He said the new Eminem album is SHIT. So I'm not getting it anymore. I love Eminem, and I have all his stuff, AND I had put aside $20 in a special 'Eminem Fund' for next Monday, but now that's all changed. I'll just get Gwen Stefani's album instead.
Cam also gave 'What You Waiting For' the full five dogs.
CHIK MAGAZINE:
The love affair is over. I got it today right, and it had gone up in price $3. This caused me to swear at the girl at the cash register. I think it's more expensive because it comes with a DVD. But then again, it says it's a 'free' gift. So I don't know if it's gone up in price, or they are overcharging for a shit dvd. Either way, it is crap.
Also, none of the articles were very good, and there was nothing overly amusing in it.
HOWEVER - On the DVD there is behind-the-scenes Neighbours footage. So I will watch it later and report back, with my mind possibly changed.