Thursday, November 04, 2004
I need a HiT
Seeing as I've already posted today's cover of HiT, here's a rather fetching picture of Cameron Adams instead: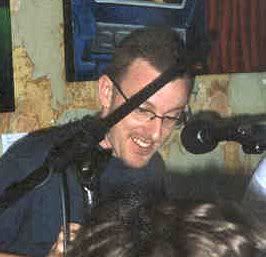 HiT
was so awesome today.
Cameron has totally made me want to get Delta's album now. He makes it sound like it's her very own Standing On The Shoulders Of Giants (ie, Excellent). There was also Cameron's most random and possibly most hilarious comment ever in the album chart section:
Green Day - American Idiot:
The first concept album in the charts since Scott Cain's 'Controlled Folly'.
Ha. And also, ?? That was so nonsensical and random Cameron. You are so back in your position of Jesus now.
And within the first 2 pages of HiT today...there were the following things:
A mention of Double The Fist

The line 'Bono saves the world'
&

Complaining about this week's Rage guest programming

I don't want to suggest anything suspicious though. All coincidences, I'm sure.